Horse Riding Lesson (friday 11th oct)
10/15/2013
On friday I got up promptly and put my jeans in my workout bag, and my pumps as I wanted to change into these after the lesson had finished, one of the equestrian girls told me that riding in jeans was super uncomfortable so I put on a pair of tights and a pair of leggings on over the top so I would be warm.
I also wore a blue jumper with a sports bra and tank top on underneath, I knew we would be rinding in a barn so warmth was key here.
I walked to the meeting point (the university local pub) and then got in Jenny's car. (Jenny had organised the lesson a week ago after conversing over facebook), I was in the front and there were too other girls in the back, we all got talking and when we got to the stables we paid our £20 for the lesson and then proceeded to the barn where we met our horses and got to grips with the saddle, the boots and the helmets.
When we got in the barn, we mounted our horses, I needed the stool because preston was so tall and I'm only 5"2, once I got on him I had to adjust my legs in to the stirrups because one side was longer than the other. We were then all walked around to the outer edge of the barn all in a line.
My horse was called preston, a 7 year old stallion of chestnut colour with a blob of white tuft in between his eyes, in a diamond shape, ( I will get a picture next time) and he such a good temperament, in fact he was quite lazy, I was second in the line of our four person school, and the horse in front of me was called breeze, and everytime breeze went preston wanted to go.
First we were lined up and we just walked around and learned how to steer the horse and keep them as close to the outside as possible, the instructor told us to keep our heels down as this way we can kick easier into the side of the horse to make him go faster. Preston would not do this, every time I tried to make him go faster he would not so the instructor had to run with us while preston trotted.
I trotted!
At first it was hard to raise my bum up off the saddle to his rhythm, but the second time was much better where I was doing it on the straight of the barn but round the corners were much harder, then the third time I mastered it all around the barn, the instructor said I had come on leaps and bounds, (what a pun) to which I replied I was a fast learner.
My first ever time on a horse and I did a rising trot, especially proud of myself. Up and down with my heels down every time the weight of the horse shifted on to his oposing legs, there is a way that you can stay still on the horse while it is trotting but this bashes your groin, this is what they do in dressage and it really hurts you, you have to have a very strong stomach for it.
I've put a little video so you can see what a rising trot is, I can tell that that horse has a wide stomach because she doesn't rise that far from the saddle, her knees need more bend in them.
Can you see the way the heels are curved down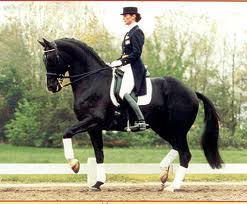 When her legs are straight she will be able to stand, perfect bend in the leg.
My next lesson is on thursday 17th of october and already I'm really excited for it. I wish I had had the money to do this when I was younger, and when I have children they will be riding horses. I will keep you updated on my progress and how its going.